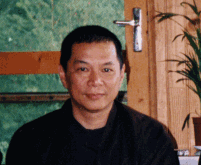 ---
Blooming of the Lotus
A Silent Weekend Mindfulness Retreat, In the Tradition of Thich Nhat Hanh,
Led by Dharmacharya Chan Huy
Sponsored by Still Water Sangha
in Montecito, California
---
Please join the Still Water Sangha in silent retreat in the tradition of
our teacher, Thich Nhat Hanh. The lotus of our awakened nature blooms into
radiant joy when we create the conditions that allow it to emerge from our
confusion and fear, just as the lotus emerges from mud. Dharmacharya
(dharma teacher) Chan Huy will lead us along the path of silence and
compassionate understanding so that together we may touch the lotus within.
We will have time to make contact with the refreshing, healing and
nourishing elements inside and around us. We will reduce our talking by
ninety percent and enjoy silent meals to help us be aware of the elements
of true happiness present in us, in our loved ones, and in our
surroundings. We will sit in meditation several times a day, walk
mindfully indoors and out, share tea with joyful awareness, and share our
meals together in mindfulness. Quiet joy and a sense of community will
permeate this time together.
Chan Huy, True Radiance, comes from a family with four generations of Thich
Nhat Hanh's students, from his grandmother to his two children. Invested as
a Dharmacharya by Thich Nhat Hanh in 1994, he is a member of the Elder
Council of the Order of Interbeing and is the coordinator of the Order's
Education and Training Committee. He is also a member of the Inter-faith
Council of Montreal and a Director of the Maple Village Buddhist Society.
Chan Huy teaches at Huyen Khong and Lien Hoa, two Vietnamese pagodas in
Montreal and leads mindfulness retreats throughout North America. We are
delighted to welcome our beloved teacher back to California
.



PROGRAM INFORMATION

- Program commences at 7 p.m. on Friday, March 9 (check-in at 4 p.m.) and
ends after lunch on Sunday, March 11 (check-out at 1 p.m.)
- Cost for the weekend is $210, including tuition, 2 nights' lodging, &
vegetarian meals.
- Registration deadline: February 26, 2001
FOR MORE INFORMATION, CONTACT:
Peggy or Larry: (805) 695-8439,
wm1@home.com
Chris: (805) 964-7372,
maitreya@silcom.com
A lotus to you, a
Buddha to be.
Registration Information for
Blooming of the Lotus



Cost: $210 per person covers tuition, lodging, and meals on Saturday and
Sunday. We are also requesting that donations be made to the teacher at
the event.
Deposit: A $50 deposit will hold your reservation. You will be mailed a
registration packet once your reservation and deposit are received. The
deposit will be applied to your program fees. Balance due on February 26,
2001
Cancellation Policy: Payments and deposits will be fully refunded if
reservation is canceled by March 3, 2001
Location: An interfaith non-profit retreat center on a 38-acre site in
the serene foothills of Santa Barbara, with a commanding view of the
Pacific Ocean and the majestic Santa Ynez Mountains.
Housing: Participants will be housed in single bedrooms which share
common bathrooms and showers. The rooms are small and spartan.
Meals: Meals will be vegetarian, served buffet style. Breakfast, lunch
and dinner will be served on Saturday, and breakfast and lunch will be
served on Sunday. Please make your own arrangements for dinner on Friday
evening as the retreat center will not provide dinner that evening.
Program Schedule: Check-in begins at 4 p.m. on Friday, March 9th.
Program begins at 7 p.m. Check-out is by 1 p.m. on Sunday. We will enjoy
a vegetarian lunch together at the conclusion of the program.
Registration Deadline: Please mail your reservation form and deposit so
by Still Water Sangha by February 26, 2001. Early registration is
encouraged, as space is limited.
Scholarships: Please call Chris Dawkins at (805) 964-7372 if you need
financial assistance to attend.
Additional Information: Chris: (805) 964-7372,
maitreya@silcom.com
Please mail this registration form with a check or money order payable to
Still Water Sangha by February 26, 2001 to: Still Water Sangha, c/o
Christine Dawkins, 4065 Foothill Rd., Apt. A, Santa Barbara, CA, 93110.
---

Name(s) _______________________________________________________

Address _______________________________________________________

________________________________________________________

Phone day_________ eve__________ e-mail_________________________

Amount due for program fees (___ participants x $210) $__________________

Amount enclosed for program fees/deposit(s) $__________________

BALANCE DUE BY FEBRUARY 26, 2001 $__________________
I am enclosing an additional $______ to help those in need to attend this
event.